Baseus 6 in 1 USB C HUB for iPad Pro MacBook Pro Air
【*】There are 4 models optional,please choose suitable model before purchase.
Padjoy Serise (Can use with protective case//Magic Keyboard/film)
【6-in-1 HDMI TF SD Model】
Output: USB 3.0 +4K HD+ SD/TF Slot + 3.5mm Jack+Type c pd 100W port
(☆Most Cost-effective
)
【4-in-1 HDMI Audio Model】
Output: USB 3.0 +4K HD+ 3.5mm Jack+Type c pd 100W port
Bend Angle Serise (Can not use with protective case//Magic Keyboard/film)
Output: USB 3.0 +4K HD+ TF Slot + 3.5mm Jack+Type c pd 60W port
Output: USB 3.0 +4K HD+ 3.5mm Jack+ SD/TF Slot+Type c pd 60W port
-USB 3.0:Data Transfer 5Gbps(1G movie can be transmitted in 5 seconds)
-HDMI-compatible: Support 4K/30Hz HD On-screen Display,iPad Pro 3rd is 4K@60Hz. Support HDCP 1.4/2.2
-SD/TF Slot:Do not Support Simultaneous Reading of TF Card and SD Card
-3.5mm Jack:Suitable for 3.5mm Jack Earphone Headphone Speaker
Note:
1)This USB HUB is type c port . So this hub only suitable for iPad Pro 2018&2020 (iPad Pro 3rd&4th) and other type c port devices
2)Due to the limitation of Apple systerm, only JPG or GIF format pictures and MPEG4 formats videos in U disk or SD/TF card be read.
3)Bacause of the one-way operation of Apple, it is impossible to export and iPad Pro album to a U disk or SD card/TF card insted,supports microSD ,SD ,SDHC,SDXC and other memory cards.
Instruction of checking if your laptop supports this product:
If the USBC port on the laptop only supports data transfer or charging, it cannot use all the functions of this hub.
The New and Improved Angle No.7 Hub is Back
Interface: According to user surveys, add user-required interface.
Structural: This hub has an independent switch to converse energy when not in use.
Compatibllity: Suitable for tablet, notebook, computer and mobile phone, compatible with magic keyboard 2.
Reset Interfaces Match Your Usage Habits
Applied methodology to design the most convenient hub interface arrangement
Hanging Design Blens in with the Tablet
The self-adaptive flat-bend angle does not block the screen and fits snugly in the socket. Made of aviation alloy, the same texture as you tablet.
Turn Your Tablet into a Workstation with a Keyboard and Mouse
Includes 2 USB interfaces, so you can connect a variety of USB devices at the same time. Worry no more about those files on your memory stick.
Large Files Upload in Seconds
The USB3.0 interface has a transmission, speed of up to 5Gbps and can quickly transfer files of several Gigabytes.
4K HD Projection Enjoy Lase Quality Picture
Supports 4K/30Hz hhigh-definition video transmission and display, freeing you to experience laser cinema at home, a smooth picture without skipping frames.
2T Rapid Reader Zero-Latency Editing
The TF card reader is designed to meet the needs of photographers and video editores. Fast reading without delaying your workflow.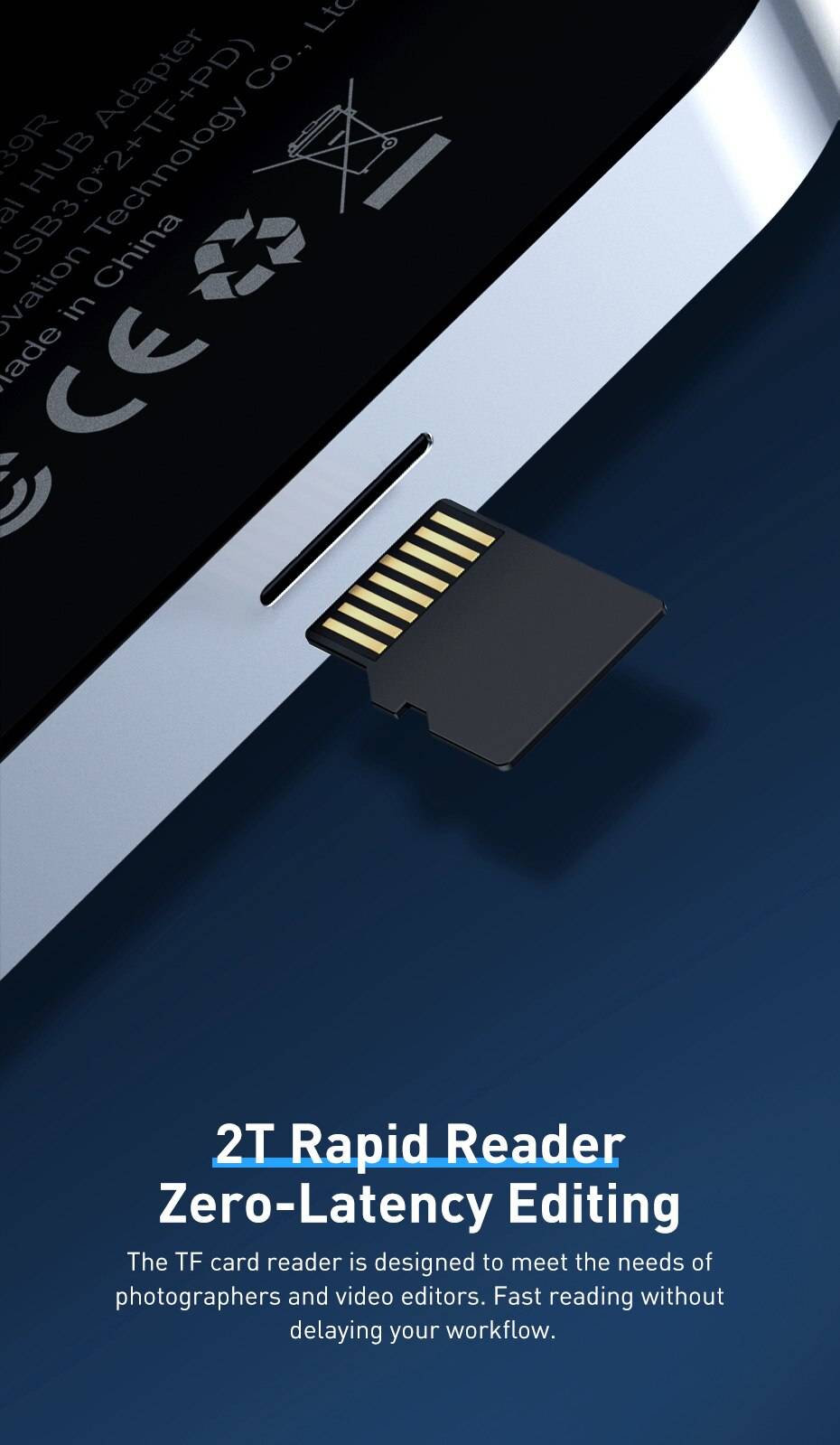 Cloud Conferencing Do Not Disturb
No adapter needed to use a 3.5mm headset. Broadcast streaming, hold video conferences, and use voice without disturbing others.
60W PD Charging Quickly Charge your Device
PD power input as high as 60W, so you can still work and surf while quickly charging your computer.
New Switch Design Reduces Tablet Power Consumption
The new independent HUB switch can be turned off when not in use, reducing the power the power consumption of the tablet or computer.
Independent Starts with the Chip
Built-in independent operating chip to ensure the independent operation of 6 interfaces. Faster and more efficient.
Standardized Magnetic Gaskets, Compatible with Even more Devices
Three standardized magnetic gaskets with different thicknesses are provided for convenient attachment to equipment with different thicknesses.
Suitable for Type-C interface computers and mobile phone
Suitable for computers
>>For iP:
for iP table Pro(2020)11/12.9 iP tabelet Pro(2018)
for iP Notebook 12 inch, iP Notebook Pro
for iP Notebook Air, Mackbook Pro 17/18/19
for Macbook Pro 13/15/16 inches
>>For HUAWEI:
for MateBook. MateBook X, MateBook X Pro, MateBook E
>>For Honnor Magic
>>For Mi:
for Air 12.5,13.3 inch,Pro 15.6 inch,Mi game book
>>For Asus:
for U306,U321,U4100,ROG
>>For Lenovo:
for Yoga5 Pro, ThinkPad_X1 Carbon2017,Miix 720
>>For HP Pavilion X2, EliteBook Folio G1
>>For DELL XPS13/15
>>For Googel ChromeBook Pixels, PixelBook Pen
>>For Razer Blade Stealth
>>For Microsoft Surface Book 2
Suitable for Phone
>>For HUAWEI: Mate30,Mate30 Pro,Mate20,Mate20 Pro,Mate10,Mate10 Pro,Mate20X,P20/P20Pro/P30/P40/P40Pro
>>For Samsung: S10/S10+/Note9/Note8/S9/S9+/S8/S8+
Product Parameters
Meterial: Aluminum alloy
Color: Deep gray
Input Dual: Type-C
Output: USB3.0*2+4K HD*1+PD*1+3.5mm*1+TF
USB3.0 Transmission speed: 5Gbps
HDMI-compatible Resolution: 4K@30Hz
TF Card: Supports data retrieval from 2TB Memory Card
3.55 Audio Frequency Port: Port supports standard US headphone sets
Size: 83*36*19mm
Weight: 65g
PD input power: 100W Max