3-Mode Connection: Here comes Redragon innovative 1st-Gen 3-mode connection technology, USB-C wired, BT 3.0/5.0 & 2.4Ghz wireless modes which advanced your use experience to next level in all fields.
Worry-Free Wireless: Built-in upgraded 3.0/5.0 Bluetooth and 2.4Ghz wireless chips, K621 offers a real-wireless and no-latency connection for all devices in the market. Easy to toggle among different devices in 3 modes set no limits of possibility.
30% Cutted Ultra-Thin: Low profile designed throughout the whole keyboard from the bottom board, middle low-profile red switches (actuation force: 40g) and the top keycaps aim to shorten the distance to actuation as much as possible.
More Extra Practical: Set with 4*5 on-the-fly macro keys and a dedicated function area for media control. Convenient to rec frequently used macros without software, play the next song, or just scroll for volume adjustment.
More Details Redefinable: Along with tank-solid material is the Redragon core software driver support, 16.8 million colors backlighting, standard keys remapping, and infinite keybindings are all available for personal re-mod.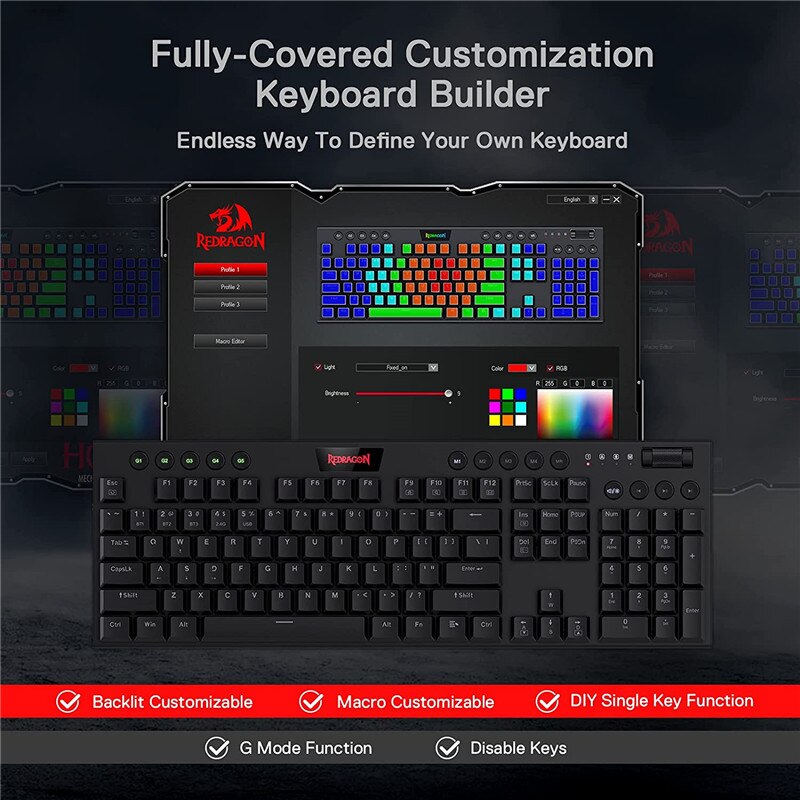 5 Devices Switchable
With 3 Bluetooth devices storable, a 2.4Ghz wireless mode, a wired mode, K618 can save and switch connections to five devices simultaneously. One keyboard is good enough for most of the devices in your home.
Superb RGB For Gamer
Up to 20 preset vibrant backlight modes can be adjusted easily by FN + Ins, the brightness is also adjustable by scroll section. Redragon logo filled with same RGB colors offers extra actively buff for gamer.
Solid Use Durability
Equipped with an advanced 1900 mAh lithium battery, the keyboard provides a prolonged using time in wireless mode. Low battery indicator makes sure the keyboard will always online if you don't forget to recharge.
Q&A
Q1: How can I tell what mode the keyboard is in? How to switch modes?
In different modes, the M indicator will be displayed in different colors. Three modes BT1 (2, 3)/2.4G/USB will display Blue (Cyan, Purple)/Green/White in order.
With existing device connections, switching among by FN+1(2.3)/4 (wireless mode), FN+5 (wired mode).
Q2: When does the keyboard needs to be recharged and how do I know it is full?
When the M indicator light starts flashing in red, it is in low battery indication and you need to plug in the USB-C cable to charge in time.
During charging, M indicator will stay in solid red color (any mode) and restore to current connection mode color status when it's fully charged.
Q3: Even in OFF mode, why does the keyboard still go into sleep mode?
This is because the keyboard is still in wireless mode (even in OFF mode), you need to press FN+5 to enter the wired USB mode again to make the keyboard backlight does not go out.
Q4: Why does the W/A/S/D keys become arrow keys?
Press FN + W to switch the WASD keys function to arrow keys, press them again to restore original function.