Waterproof Smart Watch Men Women 3ATM
Compatible system: IOS/Android.
Features
Women's menstrual cycle prediction, information push, pedometer, sleep monitoring, heart rate, multi-sports mode, multi-language, music control, mobile phone search, sedentary reminder, drinking reminder, alarm clock.
Smart watch support languages
English, Chinese, Japanese, German, French,Italian, Portuguese, Spanish, Russian
Hardware specifications
Central Processing Unit: Realtek8762DW
Display: 1.3inch AMOLED screen 360*360 pixels
Touch screen: full touch
Waterproof: 3ATM waterproof, 30 meters waterproof.(Do not press buttons in water.)
Bluetooth: Ver. 5.0
Battery: 240mAh polymer battery (4.2V)
Standby time: 15 days Normal use time: 1-3 days
Heart rate sensor: HRS3603
* Dial: a variety of dials for your choice, you can customize the dial, use your own pictures to make a watch face
BUILT-IN MULTIPLE DIALS
Support download more colorful unique dial on App
At the same time, it supports APP custom downloading of colorful dials (you can use your own picture as wallpaper)
Brand New Sports Smart Watch
NEW DISCOVERER
14 sports modes, Breathing training , Menstrual cycle , Multi-dial style,
continuous heart rate monitoring ,Real blood oxygen ,Weather
Music player,Remote cameral,Sleep monitoring
Built-in more functions
6 reasons to choose it
1.Unique hidden water drop button design
2.Super Retina AMOL .ED screen.brings you a new feeling
3.Magic Ultra-thin,body–9.8mm
4.Long-lasting battery life,daily use more than 15 days, standby 35 days
5.Powerful health,monitoring function
6.Always on display,function 24 hours online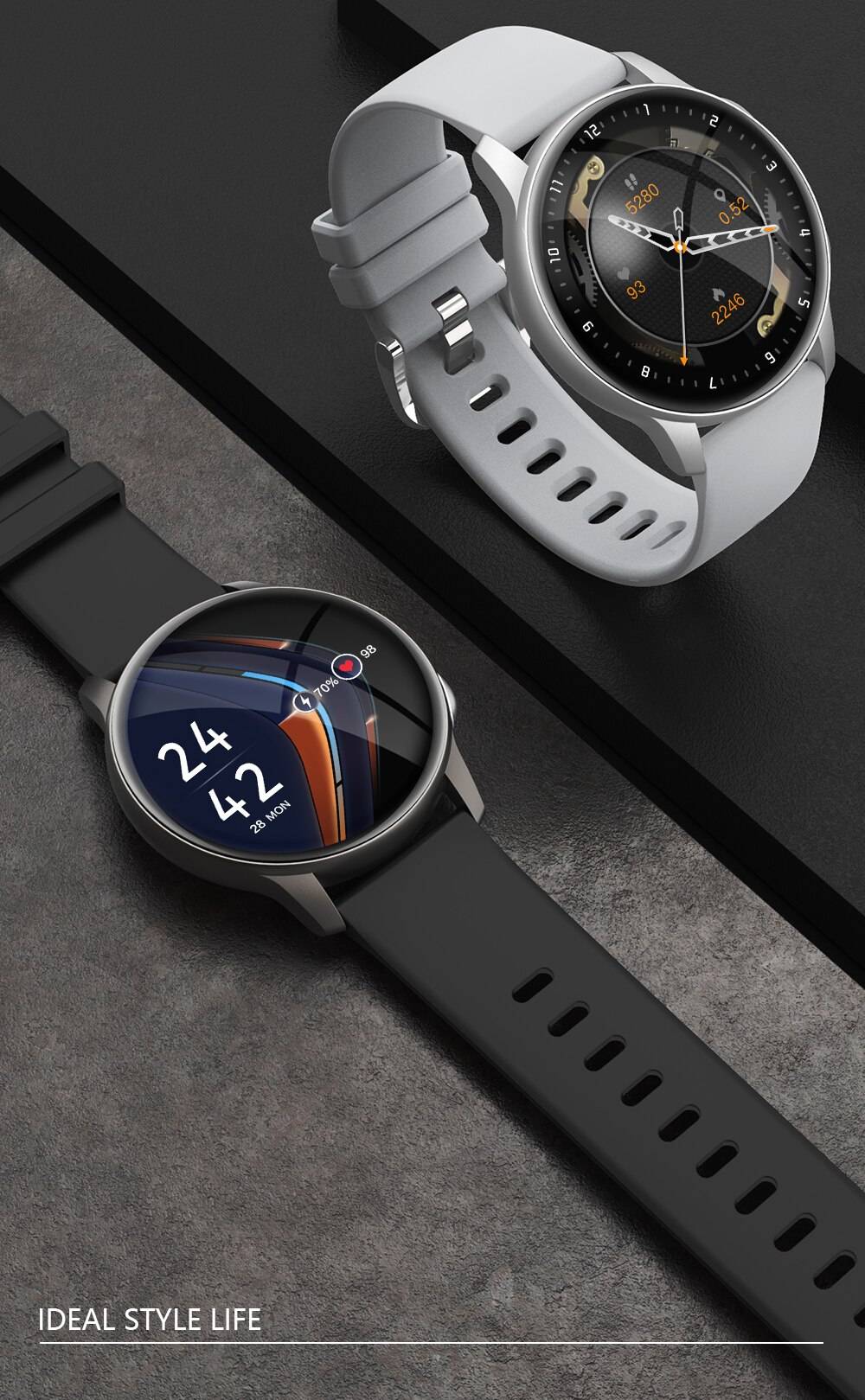 HIDDENWATER DROP BUTTON
Global patented design–water drop button
2.5D curved glass design
Mineral glass mirror surface, high permeability, wear resistant and scratch resistance.
ULTRA-THIN
Super Ultra-thin magic body As thin as 9.8mm
Mineral glass mirror surface
SUPER RETINA AMOLED SCREEN
Bring you a brand new visual
____
1.35 inch AMOLED Display 360* 360
INTELLIGENT HONEYCOMB MENU
DIAL IS UPTO YOU ,DIY your watch face
EXERCISE DATA
Configure a new generation of 3-axis acceleration sensor Running, walking, and cycling can capture and record motion trajectory data Perform scientific analysis to effectively improve body materials
MULTI-MODE EXERCISE DATA ANALYSIS
walking, Running, Climbing, Outdoor cycle, Spinning
bike, Swimming, llipical machine, Rowing machine, Yoga, basketball, baseball, rope skipping, football, Free training
BREATHING TRAINING
Breathing training once a day, through exercise, effectively strengthen the patients diaphragm movement, ventilation improve respiratory and increase activity endurance, reduce breathing difficulties.
1、shrinking lips to breathe:
Extend the expiration time and reduce the lung volume at the end of the expiration. The specific operation method is to inhale through the nose, hold for three seconds, the mouth puffs like a candle blowing, and slowly exhale. Pay attention to the ratio of exhalation to inhalation about 2:1.
2、Abdominal breathing :
The breathing action produced by the diaphragm is called abdominal breathing.When performing abdominal breathing place one hand on the chest and one hand on the abdomen. Use the nose to inhale and slowly bulge the abdomen.Pay attention to ensure that the abdominal action is more than the chest. Then contract your lips to breathe and exhale slowly through your mouth.
B、 Combination of breathing and movement:
When you stretch your body, you can breathe in, and when you bend your body, you can breathe out;
4、Simple breathing exerciser:
Train the respiratory muscles through the breathing exerciser to strengthen the muscle strength, endurance and speed of the respiratory muscles
VIEW ANYTIME ANYWHERE INCOMING CALL REMINDER
You can check the incoming calls and message notifications at any time when you are do exercise or driving.
CALLS AND MESSAGES
Sync receive all kinds of messayes. (Display messages, but can't answer calls, and can't type to reply to messages)
Sync with mobile phone, support SMS reminder,push Skype, Email, Line, facebook, Twitter and other social application messages, and display push synchronously
Facebook, WhatsApp, SMS sync, Skype, Twitter, Call reminder, mailbox, LINE
Always On Display(AOD)
You can check the time without turning
on the screen all day.
24 hours continuous Heart rate monitoring
New heart rate detection method, intelligent detection and evaluation Heart rate status keeps tracking your body changes
(The measurement data is for reference only,not used as medical data)
REAL BLOOD OXYGEN
Look at the signal from the body
Support blood oxygen saturation (SpO2) measurement,accurate measurement of blood oxygen anytime, and a comprehensive know your own health status.
It is recommended that the following
people pay attention to blood oxygen:
High-intensity workers, elderly people, people with hypoxia in alpine/altitude environments, and people who snore.
(The measurement data is for reference only,not used as medical data)
MENSTRUALCYCLE
Goddess exclusive features
Predict and remind menstrual period, Care for your health and intimate experience
SLEEP MONITORING
Scientifically analyze your physical condition
Monitor sleep quality through out the whole process, record complete sleep structureAnd combined with AI technology to improve the quality of sleep
3ATM waterproof
3ATM level waterproof and dustproof, you can wash your hands even in rainy days.
Note: Do not use in sauna or hot bath, do not press buttons in water.
REMOTE MUSIC CONTROL
You can remotely control the phone music player through the watch, Let's enjoy music.
KAIMORUI official store
Q1: Why choose KAIMORUI.
A1: KAIMORUI is a hybrid high-tech smart wearable company integrating R&D, production and sales. Main products: adult smart watches, children's smart watches, ladies and men's watches, mobile phone watches, positioning watches.
Q2: How long does it take to ship after placing an order?
A2: Shipped within 24 hours under normal circumstances. Under special circumstances, it will be shipped within 72 hours or more. (Special circumstances such as weekends, holidays, etc.)
Q3: Can we print my own logo on your product or package?
A3: Yes, we accept OEM and ODM service, we have done it for many customers. We can make your branding such as launch logo on screen, print/laser logo on smart watch and box. Other more details, depending on your special requirements.
Q4: How can you guarantee our good quality?
A4: We have professional QC to check all products before delivery.
Q5: How much is the shipping cost?
A5: Shipping cost depends on weight and package size and your country/region. Free shipping in most countries.